Hi Pretty Ones,
My weekend was pretty quiet. Up early on Saturday for a local radio station's Mother's Day Dress and Shoe Drive, Heels and Hope, which benefited Every Woman Works, Inc. Similar to Dress for Success, this organization helps women in need of business attire, who are recovering from addiction, domestic violence and poverty. Spent the rest of the weekend chillaxin. But on Sunday I made my early morning trip to the grocery store. Grocery shopping at like 5 or 6 in the morning when the store is very quiet and not crowded, quite relaxing. I love fresh flowers and spotted these pretty bouquets at Kroger and snagged a couple for a small arrangement in the living room.
Small Flower Arrangement Tips:
1 – Pick an easy color palette with a couple of colors, I chose pink and green
2 – Cut the stems diagonally and remove any extra foliage that would be submerged in the water
3 – Group similar flowers together
4 – Arrange back to front – tall to short
5 – Add fresh water daily
6 – Use lemon juice and sugar for flower food
I really liked this simple arrangement and at under $25 bucks, quite a bargain. Fresh flowers add color and life to any room. Do you like fresh flowers?
Lovely Linking with:
still being Molly


Southern Sunflowers & Coffee Beans


Walking in Memphis in High Heels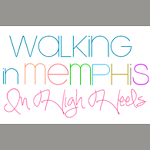 Keep it Pretty,
robincharmagne